Superior Protection in the Most Extreme Environments
Offshore "floating" assets serve a multitude of purposes for the global economy, represented in FPSO, FLNG, & FSRU markets. These assets are required to withstand the most harsh conditions possible. More often than not, these vessels are insulated to meet particular thermal properties which historically cannot withstand the rigors of offshore service. Corrosion Under Insulation (CUI) is a hidden enemy to these offshore applications. The ability to utilize an insulation, that withstands liquid water, is impervious to most mechanical abuse and give simplification to operators at sea; has proven to improve vessel safety and almost eliminate lost down time due to CUI related events. When insulation soaks up water, it creates an environment that promotes CUI, resulting in severe asset degradation and potential loss of containment. Beyond the costly safety concerns, when insulation becomes wet, its ability to insulate drops considerably, rendering it nearly useless as an insulator.
Aspen Aerogels' insulation blankets resist water and stay drier for longer, promoting a system that does not suffer in a corrosive environment. In addition, our line of Pyrogel® blankets was engineered to stand up to the main enemies of insulation: heat, water, and mechanical abuse. This allows industrial operators the chance to reuse the material and stop worrying about underperforming insulation.
Connect with Aspen Aerogels floating insulation specialist today.
Superior CUI Mitigation
Our Pyrogel flexible aerogel insulation is engineered to manage water ingress better than traditional insulation products. Hydrophobicity throughout the composite resists liquid water ingress and the open-celled pores allow for moisture to escape the system without damaging the insulation. Additionally, eliminating the concern of additional operational weight.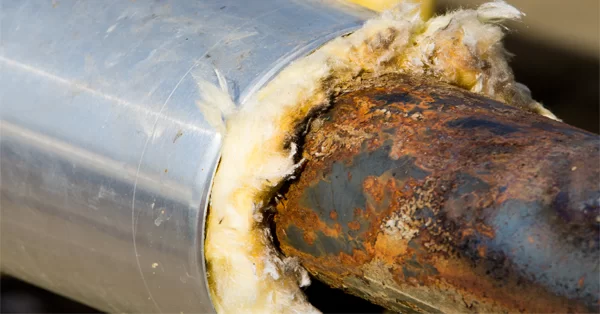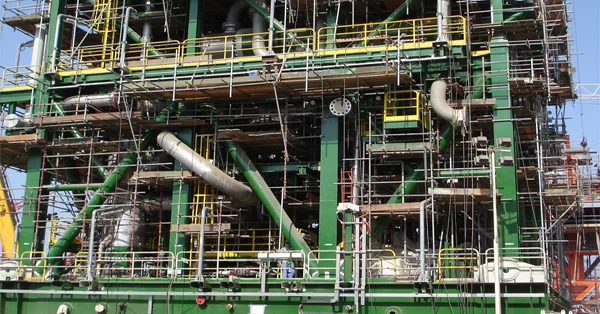 Compatible With Modular Builds
Tough, durable, and easy to install. Save time and money by pre-insulating offsite and crane lifting into place. Pyrogel and Cryogel can reduce overall module weight while reducing sail area.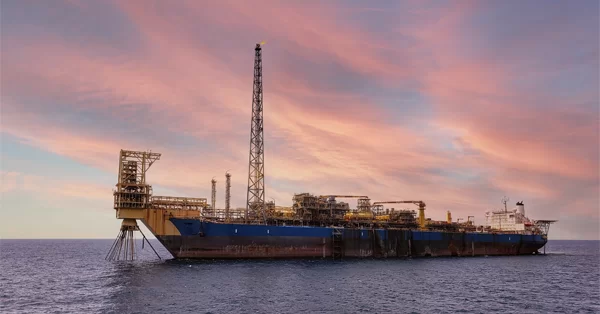 Longer Useful Life
Pyrogel insulation's flexible format protects against common mechanical damage. Foot traffic and tool drops do not have the same negative effect as you would see on rigid materials. In addition, Pyrogel insulation can be removed and reused after inspection to save time as well as offshore storage, material handling, and portage expense.
Personnel Protection
High-temperature piping trains can expose workers to surface temperatures that can cause serious injuries. Insulating to get the surface temperatures below 140°F can help to protect people encountering these pipes. Our thin profile Pyrogel insulation can be easily installed, even in tight spaces where traditional insulations do not have enough room to be effective.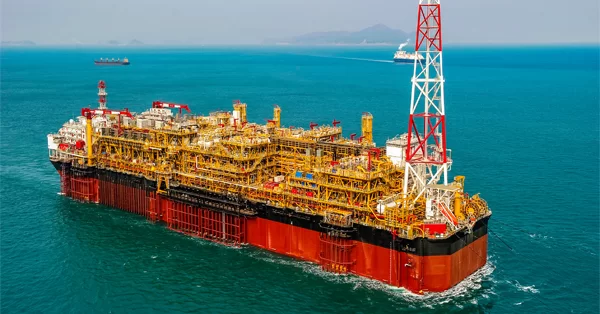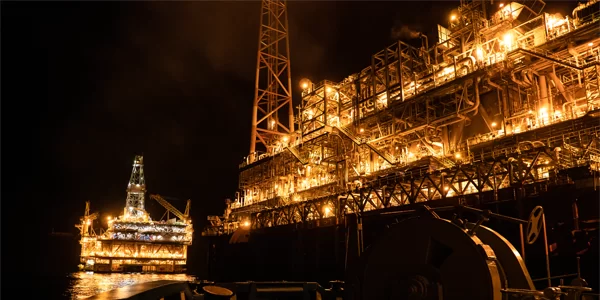 Improved Process Stability
Wet insulation can result in process control issues due to variations in process temperatures. Pyrogel insulation protects against process upsets, allowing unit operators to maintain stable process conditions and optimize process yields.
Thermally Insulate and Receive Fire Protection Benefits in One System
Engineers working on offshore vessels are often presented with the complex task of providing both thermal and fire protection to assets located in fire rated areas of their plants. Traditional intumescent fireproofing involves a time-consuming installation process and can be easily damaged during coating or inspection.
Our Pyrogel® XTF and Cryogel® Z flexible aerogel blanket insulation provides exceptional passive fire protection and superior thermal performance in an easy to install, lightweight format.
Corrosion Under Fireproofing (CUF) is often a concern for facility operators as intumescent-based products do not allow water vapor to escape. Hydrophobic and breathable, Pyrogel XTF keeps underlying assets drier for longer, providing superior corrosion defense and maintaining process conditions even in the harshest of environments.
With more asset coverage per man hour, especially on large-bore piping, vessels and skirts, Pyrogel XTF supports a faster return to service. It can be applied in all weather conditions and requires no cure time, providing immediate protection of assets.
Our flexible blanket format allows for quick removal and reinstallation during inspection events, saving facilities from having to repurchase the insulation and fireproofing. By eliminating the wait time for intumescent type fireproofing to cure, revenue producing units can return to service more quickly, providing additional value to their facilities.
Tested to the most stringent fire-protection standards, Pyrogel XTF delivers hydrocarbon pool-fire protection for up to 4 hours, and jet fire protection up to 2 hours. It can also be used to meet the requirements of API 521 for the sizing of pressure relief systems.
Superior Defense Against Corrosion Under Insulation
Water is a well-known enemy of industrial insulation. Yet heavy rainfall, high humidity, and persistent exposure to ocean air are unavoidable for all floating production storage and offloading (FPSO) vessels.
While insulating an asset helps maintain critical process conditions, it exposes the asset to a more serious problem – corrosion under insulation (CUI). Leaving an asset uninsulated avoids this but can lead to volatility in performance and a reduction in process yields, increased energy costs as well as negative impacts on overall performance.
Pyrogel aerogel insulation prevents your facility from having to make the tough decision between protection and performance. The risk of corrosion under insulation (CUI) increases with the amount of time an asset is in contact with water. By keeping process assets drier for longer, our Pyrogel flexible aerogel blanket insulation delivers superior defense against CUI to protect your assets, process performance, and your bottom line.
Our patent-protected, high-performance aerogels are distributed evenly throughout the Pyrogel blanket, thus forming an inherently hydrophobic composite. Unlike surface-coated insulations, Pyrogel's durable hydrophobe provides maximum protection against water ingress, even on cut edges. We have also developed Cryogel Z cryogenic insulation to help LNG facilities and offshore platforms mitigate CUI.
Long-term Defense Against Corrosion Under Insulation
In 2008, a newly constructed chemical facility was experiencing issues with process performance. Detailed investigations revealed widespread corrosion under insulation (CUI). The facility's engineering team identified Pyrogel as their preferred solution. Subsequently, the customer has decided to install Pyrogel throughout the rest of their facility.
When interviewed 10 years later, the customer's engineering team revealed that Pyrogel not only solved the initial process performance issues, but it continued to prevent CUI for the entire decade.
Connect with an Aspen Aerogels floating insulation specialist today.