Superior Defense Against Corrosion Under Insulation
Water is a well-known enemy of industrial insulation. Yet heavy rainfall, high humidity, and persistent exposure to ocean air are unavoidable for most refining and petrochemical facilities.
While insulating an asset helps maintain critical process conditions, it exposes the asset to a more serious problem – corrosion under insulation (CUI). Leaving an asset uninsulated avoids this but can lead to volatility in performance and a reduction in process yields, increased energy costs as well as negative impacts on overall performance. Pyrogel aerogel insulation prevents your facility from having to make the tough decision between protection and performance. The risk of corrosion under insulation (CUI) increases with the amount of time an asset is in contact with water. By keeping process assets drier for longer, our Pyrogel flexible aerogel blanket insulation delivers superior defense against CUI to protect your assets, process performance, and your bottom line.
Our patent-protected, high-performance aerogels are distributed evenly throughout the Pyrogel blanket, thus forming an inherently hydrophobic composite. Unlike surface-coated insulations, Pyrogel's durable hydrophobe provides maximum protection against water ingress, even on cut edges. We have also developed Cryogel Z cryogenic insulation to help LNG facilities and offshore platforms mitigate CUI.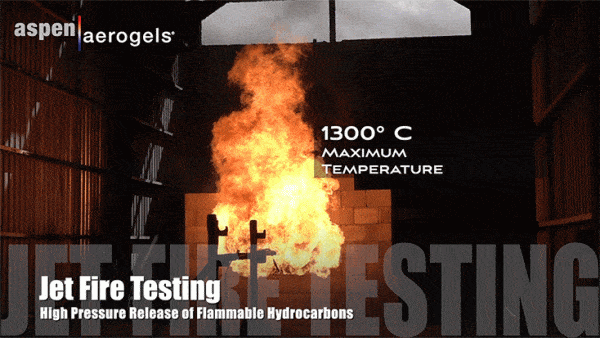 Superior Corrosion Under Fireproofing Protection
Pyrogel XTF aerogel insulation combines class-leading thermal performance and superior defense against CUI with exceptional passive fire protection (PFP). Corrosion under fireproofing (CUF) is a common and costly issue in passive fire protection systems because water can get trapped between an asset and fireproofing coatings. Coatings are not applied in PFP systems using Pyrogel XTF, which helps avoid this potentially serious issue.
Long-term Defense Against Corrosion Under Insulation
In 2008, a newly constructed chemical facility was experiencing issues with process performance. Detailed investigations revealed widespread corrosion under insulation (CUI). The facility's engineering team identified Pyrogel as their preferred solution. Subsequently, the customer has decided to install Pyrogel throughout the rest of their facility.
When interviewed 10 years later, the customer's engineering team revealed that Pyrogel not only solved the initial process performance issues, but it continued to prevent CUI for the entire decade.
More Than $1 Million in Annual Energy Savings at South American Petrochemical Complex

Persistently wet insulation resulted in aggressive CUI on a high-pressure steam line. Massive heat loss during rain events led to steam sheds and process shutdowns. Pyrogel® was selected to replace water-absorbent mineral wool and calcium silicate insulation. Now, Pyrogel keeps the steam line dry and operating efficiently, supporting downstream process stability and process efficiency.

The Result

Pyrogel supported an estimated annual energy savings of $1.3 million.

Refinery Reinsulating Hot Process Pipework in Sitewide Turnaround

A Midwest refinery selected Pyrogel® to replace degraded mineral wool and calcium silicate on hot service pipework during a 45-day turnaround. Despite heavy rainfall, the insulation phase was completed 8 days ahead of schedule. Pyrogel was applied to a range of pipe sizes and select equipment for heat conservation and CUI defense. Pyrogel's unique ability to protect the assets allowed the site to restart before the jacketing was completed.

The Result

After such a successful turnaround, Pyrogel XTE was added to plant specifications, and the reliability leader elected to use Pyrogel on an upcoming Tier 3 project.

Coastal Ethane Cracking Facility

Pyrogel® and Cryogel® were selected to re-insulate a South Asian Ethane cracking complex damaged during a fire event. Undetected CUI led to the loss of containment. Before the site was permitted to restart it had to demonstrate to the local authorities that it had an effective CUI defense plan in place. Pyrogel and Cryogel were subsequently selected to protect ten process columns in the facility, totaling almost 2 million ft2.

The Result

The versatile format of both products supported faster application rates, enabling the facility to restart units earlier.
Solving Insulation's Toughest Challenges for More Than 20 Years