Thermal and Fire Protection for Electric Vehicles and Energy Storage Systems
Lithium-ion batteries are fueling a more sustainable future. Aspen Aerogels supports OEMs' drive towards a better battery packs with our lightweight, ultrathin PyroThin® thermal and fire barrier materials. PyroThin helps increase battery packing density, lower weight, and have more efficient thermal management, all while meeting regulatory and manufacturer mandated battery safety requirements. As a direct descendent of our proven passive fire protection solution for the energy infrastructure market, PyroThin is optimized for helping to mitigate thermal runaway in electric vehicles (EV) and energy storage systems (ESS).
Our thermal barrier engineering team supports thermal runaway mitigation programs globally. To learn more about our comprehensive design, concept, and prototyping services, contact us below.
Cell-to-Cell Thermal Runaway Barriers
In cell-to-cell barrier applications, PyroThin combines thermal protection to mitigate a thermal runaway event with the mechanical performance of a compression pad. Both functions are essential to the long-term safety and performance of the battery system.
PyroThin's advanced thermal engineering supports thinner and lighter cell-to-cell barriers, allowing design engineers to maximize energy density within the module without compromising thermal runaway protection at the beginning of life (BOL) and end of life (EOL).
PyroThin can also accommodate cell breathing and lifecycle swelling through EOL. As a function of its engineered internal structure, PyroThin's thermal conductivity improves under compression.
At the end of life, despite being compressed to a fraction of their original thickness, PyroThin barriers are designed to retain sufficient thermal resistance to mitigate propagation in the event of a thermal runaway event.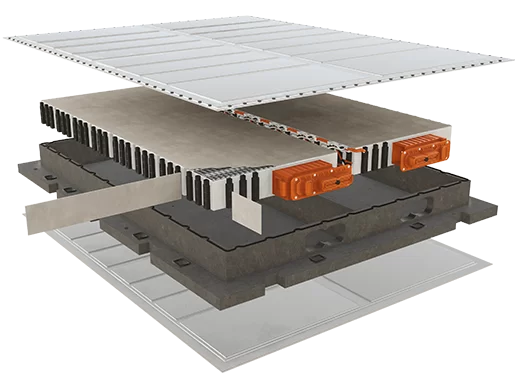 Module and Pack Barriers
PyroThin's thin format supports space-saving, lightweight module, and pack barrier solutions. The durable blanket format can be shaped to accommodate protrusions and can be implemented below or above the pack top plate, depending on the pack requirements.
Take Advantage of Our Comprehensive Design, Concept, and Prototyping Service