Cryogel® for Cold Separation Units
Cryogel® for Cold Separation Units
Reduce operating costs & downtime, improve product quality, and increase yield.
Learn how Cryogel® can provide significant benefits to maintenance teams, engineers, contractors, and construction teams. Read about the multiple benefits that Cryogel brings to cold separation units operating at petrochemical facilities.
Protect against heat gain
Environmental challenges can create significant operating condition swings, leading to compromised product quality. With an advanced aerogel insulation like Cryogel, you now have the ability to stabilize operating temperatures in your fractionation units and minimize loss of high value product. With our advanced industrial insulation, owners can see measurable energy savings by reducing the costs of cooling the processing unit.
Reduce icing
Expansion joints in traditional material insulation are susceptible to ice formation, leading to added load to structure, compromised thermal performance, and site safety issues. Cryogel® does not require expansion joints, resists cracking and shifting, and comes with a factory-applied vapor barrier.
Mitigate corrosion under insulation / corrosion under fireproofing
The risk of condensation when working with sub-ambient temperatures is always present. This additional layer of risk brings with it unique challenges to traditional insultation materials where corrosion under insulation or fireproofing becomes an issue to asset life and overall asset safety. Cryogel's flexible blanket design reduces shifting and potential for water ingress, delivering seamless and homogenous thermal and fire protection, therefore reducing risk at weak spots such as the sweat lines.
Reduce inspection & repair time
Traditional rigid and cementitious fire protection must be removed, disposed, and replaced during asset inspections, leading to longer periods of plant downtime and additional costs. The flexible blanket format of Cryogel allows for easier inspection, faster maintenance, and reduced warehouse space with one material fitting various geometries.
Meet PFP requirements
Cementitious fire protection is often not as efficient at guarding against and actually may be a source of heat gain in a cryogenic insulation application. Aspen Aerogel's cryogenic insulation allows engineers and designers to meet specific PFP requirements while at the same time allowing the implementation of high performance thermal insulation with a single material.
Understanding the importance of insulation selection is critical to success. Download the brochure to learn how Cryogel can help deliver projects on time and within budget.
Improve yield, reduce downtime, and conserve energy.
Learn how a distillation unit with degraded or insufficient insulation can negatively impact the unit's overall profitability. Inconsistent feed temperatures, icing over existing insulation, poor separation leading to HVC burned as waste, corrosion under insulation/fireproofing, and difficulties with inspections and repairs are all telltale signs of failing and/or inferior insulation solutions.
Proven results in real world applications
The failure of cellular glass insulation on a C2 splitter in Illinois resulted in temperature fluctuations during bad weather, corrosion under insulation, and overall process instability. Cryogel was chosen as the replacement cryogenic insulation due to it's advanced aerogel technology. This technology is ideal for cold separation units operating in petrochemical plants due to its inherent ability to insulate against thermal fluctuations, mitigate corrosion under insulation, and stabilize the entire cold separation process.
All the advanced aerogel properties of Cryogel allowed this customer's C2 splitter to improve their process yield, reduced energy consumption by 30%, and allowed more consistent temperatures during inclement weather. Additionally, Cryogel proved to be contractor friendly as the cryogenic insulation was easier and quicker to install (wrap vs cast).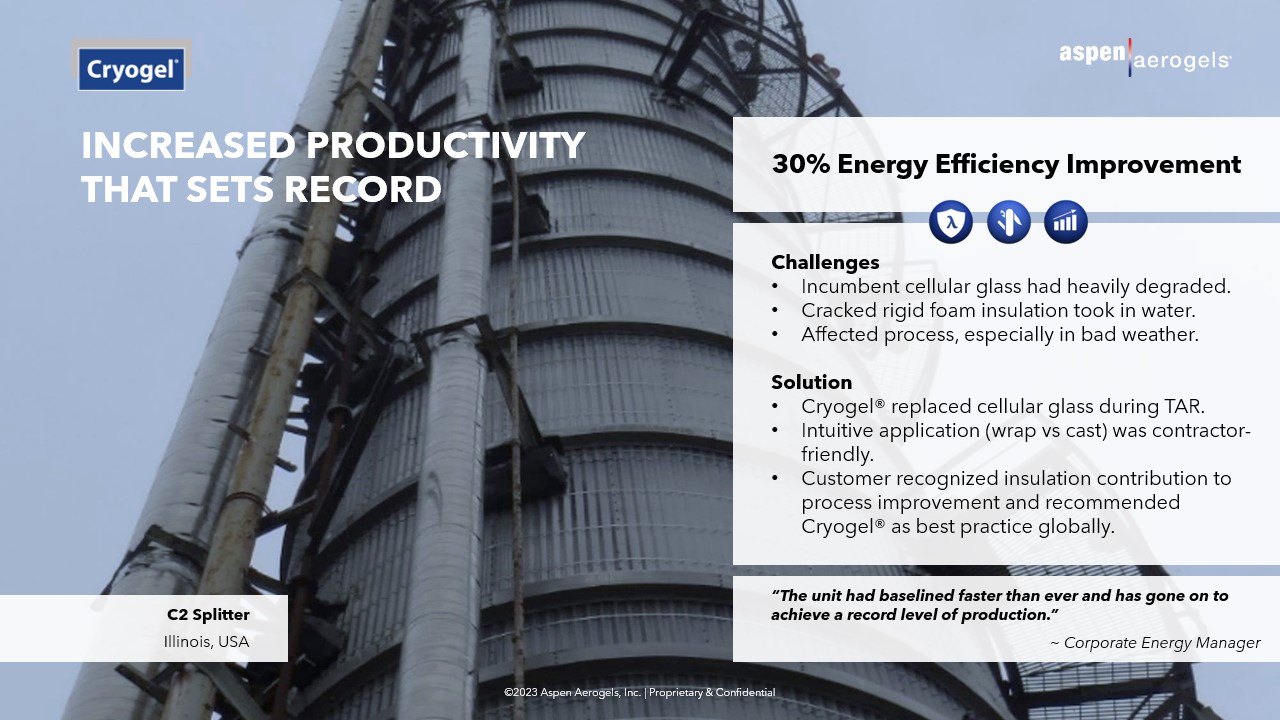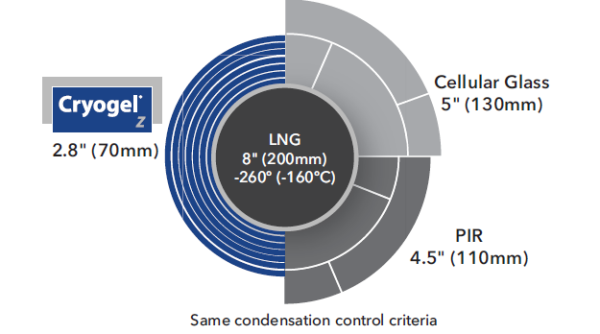 Save Space and Weight for Cold Separation Units
Our advanced aerogel-based cryogenic insulation blankets can provide superior thermal performance while being up to 46% thinner than other traditional formats.
Cryogel is tested and proven in real world applications by customers seeking to improve yields and increase profitability. Effectively capture more high-value chemicals (ethane, propane, butane) by keeping your process colder and having clearer suspensions.
Our aerogel-based cryogenic insulation blankets also mitigate corrosion under insulation, reduce space & weight in tight applications, reduce inspection downtime, and reduce overall plant energy consumption.